News
Tropical Pineapple Centerpieces With Flowers Workshop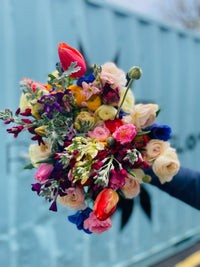 Pineapple Centerpieces With Flowers
Some things are synonymous with summer: sunshine, beaches, and of course … flowers! On June 10, Orchard Lane invites you to join us to make the ultimate summer flower arrangement: tropical flowers and greenery displayed in a fresh pineapple!Adorable.
Pineapples are symbolic of hospitality and warmth, andpineapple centerpieces with flowers are perfect for your summer table. Our Real Pineapple Arrangement workshop is one of our most popular, both for the clever tropical vessel and for the beautiful blooms and composition we help attendees create. 
We'll be using a mix of our favorite bright, summer-inspired blooms, such as roses, peonies, and some exotic flora as well. This pineapple floral arrangement is a perfect accent for your own entertaining or to bring along as a hostess gift to a summer cookout. It's guaranteed to make people smile!
Our workshops take place in our Clintonville Orchard Lane Flower Shop. These monthly events always have a fun, party atmosphere where creativity is celebrated. 
Here's what you need to know:
What:Real Pineapple Arrangement Workshop
When: Saturday, June 10, 11:00 a.m.
Where:Orchard Lane Flowers/Rosie the Flower Truck's Garage
378 Indianola Ave.
Columbus, OH 43214
Cost: $95; includes all materials PLUS a 10% discount on anything you buy in our flower or gift shops that day.
FAQs:
How do I sign up?It's easy.Just register here.
What should I bring? Just yourself and your creativity. We have all the flowers, hardware, and tools you'll need to create your arrangement. If you want to flex your flower arranging skills at home after the workshop, however, addthe Orchard Lane Flowers Floral Design Tool Kit to your cart when you register for the Real Pineapple Workshop. Just $35, your tool kit will include a pair of floral snips, 1/4" clear tape, a spool of green floral tape, and a spool of paddle wire.  All the supplies come in a cute little Orchard Lane Flowers branded pouch. We'll have your kit waiting for you at the workshop! 
Do I need any special skills? Absolutely not. Our floral artists are the best in Columbus and they love to share their craft. We'll teach you all the techniques you need to know for this arrangement. 
Can I bring a friend? Of course! Just remember that space is limited, so sign up soon. But feel free to fly solo. You'll meet great new people.
Do you do private parties? Absolutely! A private workshop event is a fun way to celebrate a birthday, host a team building workshop, or throw a bachelorette party or bridal shower. We can host groups from 10 to 50. Just reach out and we'll get your private workshop started. 
We're looking forward to getting creative with you at Orchard Lane!