News
Match Mom's Personality To a Mother's Day Bouquet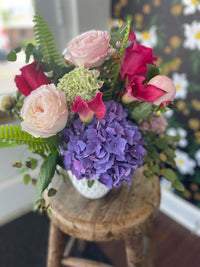 Time For a Mother's Day Bouquet
It's nearly Mother's Day, a day to celebrate all the moms in your life! Your
mom is beautiful and deserves an equally beautiful Mother's Day bouquet, arrangement, or live plant from Columbus' most artistic florist, Orchard Lane. Choose one of our popular arrangements online, or to create something truly personal, call us or stop into our Clintonville location. We'll chat with you and create something that expresses your feelings for this unique, amazing woman. 
There are classic Mother's Day bouquets and flower varieties guaranteed to touch every mom's heart. Bunches of these — including roses, peonies, or lilies — can be given as a single-variety bouquet or with other flowers and greenery as part of a mixed bouquet. Seasonal flowers are always a good choice for Mother's Day bouquets, including the aforementioned peonies (our favorite May bloom!) and roses, as well as anemones, tulips, and other spring classics. 
The Symbolism of Flowers
Did you know that flowers have symbolic value? It's true. While we usually choose flowers for their beauty and scent, different flowers can carry different meanings. For example, ranunculus, ruffled blooms also known as "wild buttercups" symbolize charm, happiness, and positivity. And while red roses symbolize love, pink ones stand for gratitude and joy, and yellow are perfect forsomeone who's not your mom but has loved you like a mother because they symbolize caring and friendship. Speaking of yellow, daffodils are often included in arrangements for new moms, as they symbolize new beginnings and rebirth.Hydrangeas representgratitude, grace and beauty — just like Mom.Finally, carnations have been a traditional Mother's Day flower for decades. Pink carnations convey gratitude and love, red signifies admiration, and adding a white carnation to your mom's Mother's Day arrangement represents the generations before her who are gone — but never forgotten. 
Of course, if Mom is no longer with you, Orchard Lane will also create a meaningful cemetery wreath or bouquet to help you honor and remember her this Mother's Day. 
Flowers for Every Mom
There are all kinds of moms. Is yours a homebody or a mountain climber? A dancing queen or a book lover? It's fun to match the petal to the personality. Here are some ideas for just the right blooms. 
Traditional Mom:  She drove you to soccer practice, went to all your recitals, checked your homework, and made sure you were fed and clean. The lady is a hero! Our beautiful designer's choice arrangement is a great choice for her. This arrangement is reminiscent of a beautiful garden, mixing greenery and gorgeous flowers in a glass vase. We have wonderful seasonal blooms in soft tones to match the spring season. 
Bohemian Mom:  If Mom's a flower child at heart, we've got the flowers for her free spirit: a locally grown Rosie Bouquet filled with seasonal flowers and greens. It's wild and loose with lots of texture and color. She'll love it.  
Busy/Sports Mom:  A potted orchid plant or a succulent planter is perfect for the busy moms who love fresh flowers and plants, but aren't home enough to tend to them or to enjoy fresh-cut blooms before their beauty fades. Orchids and succulents don't need a lot of attention to stay beautiful!  
Trendy Mom:  Do you have a thoroughly modern mom with an impeccable sense of style? Our Pavé Rose Arrangement is contemporary, sleek, and luxe. It contains about one and a half dozen roses, so it's a little more full than a standard arrangement — a little more extra — just like your mom.  
Does your mom break the mold? We love a good collab, so stop in or call us to make the bouquet that is perfect for your mother. 
New! Fabulous Gifts for Mother's Day
At Orchard Lane Flower Shop, we have more than flowers — we offer a new
and carefully curated selection of gifts as well. We call it our "Little Luxuries" line of products. They're things we love, and we think your mom will love them, too! They look beautiful and smell even better. The collection includes bubble baths, salk soaks, and fragrance roll-ons. There's also a new line of candles inspired by our favorite flowers and "bubbly" things we love including Peony, Island Blossom, and Prosecco scents. 
At Orchard Lane Flower Shop, we value creativity, freshness, beauty, and quality. If your mom is special (and you know she is), send her flowers that are just as special as she is. Send her flowers from Orchard Lane!