News
Join Our Personalized Love Letters Workshop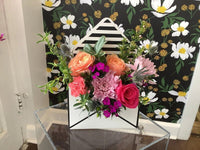 At Orchard Lane Flowers, we love teaching our craft almost as much as we love
creating beautiful flower arrangements for you and the lucky people you send them to. That's why we have monthly workshops. We are positively energized by showing you — customers, neighbors, friends, and fellow flower fanatics — how to create beautiful bouquets and arrangements at home. (Okay, TBH we also love to socialize. But really, it's about learning!) Whether you're a beginner to the world of flower arrangement or have quite a knack for it already, we hope you'll join us for our special upcoming workshop next month! 
Bring Mom to a Special Workshop!   
What does your mom want more than anything? To spend more time with you! 
Give Mom a personalized love letter in the form of a flower arranging experience. Next month we've added having a special Thursday evening workshop (May 11, at 6:30 p.m.) in addition to our usual Saturday events. Our"Love Letters" Workshop is the perfect gift for Mom and an activity to enjoy together. You'll each make a trendy, beautiful arrangement of bright blooms and lush greens in a darling envelope container. You'll learn step-by-step how to build this perfect-for-spring, perfect-for-Mom creation! Give Mom an experience this Mother's Day and a memory she'll treasure! The evening is like alove letter to your Mom. Like all of our events, it's held at our convenient Clintonville Orchard Lane Flowers retail store.
Save 10% When You Attend Workshop
As a special bonus for you and Mom, May 11 Love Letters Workshop participants will receive 10 percent off their floral purchases that day. 
Flower Skills
You leave our Love Letters Workshop not only with only a beautiful arrangement
to keep for yourself or give to someone special, you'll leave with some serious know-how you can use in your own flower arranging at home. Some of the skills and techniques you'll learn include the right way to arrange withfloral foam and waterproofing the envelope container. You'll also learn the right way to prepare blooms and greens for arrangements, how to determine an overall look and feel for your envelope design, and how to perfectly assemble this type of arrangement and bring your vision to life. 
Look What We Made! 
Our Marchwreath workshop was so much fun and each student's project was a huge success! We made beautiful and aromatic wreaths, with eachparticipant leaning into their own creativity, giving personal touches to their designs, and finding their unique design voice. Our team loves to see a group of students start with the exact same supplies — wreath forms, wire, greenery, and blooms — and produce something distinctly personal in the end. 
The energy at our workshops is always upbeat and supportive. Whether you've participated in a previous workshop or are a newbie, we can't wait for you to join us.
Can't join us on May 11? Check out the rest of ourspring workshop schedule! 
Location:
Orchard Lane Flowers/Rosie the Flower Truck's Garage
378 Indianola Ave.
Columbus, OH 43214