News
Bring Mom To Our Floral Workshop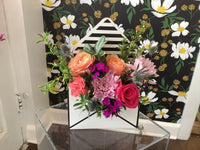 We don't know about you, but here at Orchard Lane Flowers, we're still giddy over the prospect of actual, IRL, face-to-face get-togethers. If anything good came out of the pandemic, it's a renewed appreciation for connecting with delightful people, like our customers, neighbors, and fellow team members in-person.
One of the things we love at Orchard Lane are our floral workshops, held here at our Clintonville shop! And even though we've been back for a while, we're still full of gratitude for these monthly events. Our workshops always seem to take on a party energy. People come with friends — or often by themselves — and quickly get caught up in the group fun. We always make great memories with our customers and friends — chatting, laughing, and, of course, creating gorgeous flower arrangements to take home and show off to our families and friends. (Tip: If you're interested in a particular workshop, sign up early, because space is limited and we fill up quickly!) For our March workshop, we made beautiful and aromatic wreaths with the herby, evergreen scent of rosemary, invigorating eucalyptus, and the soft, floral notes of lavender.
We always switch up the workshops so participants get experience with (and
inspired by!) different flowers and greens, vessels, techniques, and project types, including arrangements, bouquets, centerpieces, and wreaths. Our goal is to get students to build on their capabilities and combine their techniques to make amazing floral designs at home.
Upcoming Floral Workshops: Grab Your Besties and Join Us
All of our floral workshops are taught by our brilliant and talented floral designer Melonie and are held on Saturdays at 11:00 a.m. at our Clintonville store. We also have an extra workshop scheduled this month (Thursday, May 11). Bring Mom along for a Mother's Day activity you can do together. What else is on our floral workshop agenda this spring? We're so glad you asked.
Saturday, April 22: Tropical Nouveau Centerpiece Workshop This luxe tropical arrangement will feature birds of paradise and other brightly colored blooms.
Thursday, May 11: Love Letters Workshop Bring Mom to this event! We'll be designing a trendy, bright arrangement in a darling envelope container.
Saturday, May 27: Hand Tied Peony Bouquet Centerpiece Workshop Is there a flower more ravishing than the peony? While we could never pick a favorite flower, these glorious showpiece flowers are at the top of everyone's list. We'll be making hand-tied bouquet centerpieces with locally grown peonies, accent flowers and foliage. You'll take your bouquet home in our stunning Elsa gold-dipped vase.
Saturday, June 10: Floral Design Experience — Real Pineapple Arrangement Learn how to make a festive, fun tropical arrangement of summer bloons in a real pineapple! You'll learn step by step how to build your creation and add fresh florals, and other seasonal floral design accents!
Each workshop includes materials and tools you'll need. You can also purchase your own set of tools so you can replicate your favorite Orchard Lane creations and flex your serious flower-arranging talent at home.
Sign up here for our floral workshops!
Private Parties
Orchard Lane offers private events! These fun and popular workshops are perfect for a girls' night out, team-building activity, birthday party, or bridal shower. Whether you have 10 guests or 50, we'll arrange a private workshop just for your group.
Just drop us an email
!
Location
Orchard Lane Flowers/Rosie the Flower Truck's Garage
378 Indianola Ave.
Columbus, OH 43214