News
Funeral and Sympathy Flowers | Funeral Urn Flower Arrangements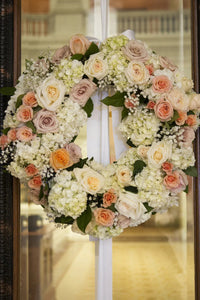 Sympathy Flowers & Funeral Urn Flower Arrangements
No one likes to think about needing to buy
funeral or sympathy flowers
, but at some point, most of us will have to do just that. This blog will help you choose exactly the right flowers to honor someone who has passed or send a message of love and support when someone you care about is grieving. Nearly every culture in the modern world uses flowers in their rituals of laying loved ones to rest. This practice is far from new. In fact, humans have been using flowers as part of funeral rites for as long as we can tell. Archaeologists recently found blooming wildflowers, including Judean sage, figwort, and mint in a grave in what is now Northern Israel. Carbon dating showed the foliage to be about 13,000 years old. Other scholars of ancient civilizations believe flowers have been part of burial rites since at least 62,000 BC.
Paying Respects to Ones who Have Passed
Today, flowers play two important roles when someone passes away: honoring the deceased (with funeral/memorial service flowers) and expressing care and sympathy to the family of the person who passed away (sympathy flowers). Funeral flowers are, as the name suggests, for a funeral or memorial service. They are a tribute to the deceased person and a symbol of life, beauty, and hope at a difficult time. Orchard Lane offers both traditional and nontraditional funeral flower arrangements. Traditionally, the largest floral tribute at a funeral usually comes from the immediate family, who works with the funeral home or a florist to purchase the large arrangement that is displayed over the casket. This is called a "casket spray." Independent florists like Orchard Lane work directly with families to make arrangements, personalizing them when the family requests something special to reflect the favorite colors, hobbies, or flowers of the person who has passed, or flowers that are meaningful to the family. Orchard Lane artists often also incorporate flowers to represent family members such as spouses, children, or grandchildren. Depending on their relationship with the deceased, other close family and friends often send slightly smaller arrangements, such as standing wreaths or standing floral sprays displayed on metal or plastic stands. Finally, more distant friends, family, colleagues, and acquaintances usually send smaller funeral arrangements in vases or baskets. Orchard Lane's Seasons in Bloom and Modern Luxe designs are popular funeral arrangements. When it comes to funeral flowers, don't get caught up in etiquette rules. Choosing flowers that reflect your relationship with the deceased (or the family member to whom you are closest) is meaningful and appreciated. If you want the family to have something to keep after the service, plants (such as Peace Lilies) or dish gardens (like our Large Succulent Dish) are a thoughtful gesture.
Funeral Urn Flower arrangements
Because cremation has become increasingly common, the floral artists at Orchard Lane create
funeral urn flower arrangements
—floral display pieces designed specifically for cremation urns. Like a casket spray, these thoughtful and beautiful arrangements are chosen by the family to be displayed with the urn at the funeral or memorial service. Funeral urn flower arrangements, or "urn surrounds," as they are often called, sit on a flat surface and can range from simple and understated to elaborate. The floral arrangement features an open space in the center into which the urn is placed for the service. Orchard Lane can create surrounds to fit any urn size or shape. As with any of our floral arrangements, we would be honored to design something tasteful and beautiful for your loved one, or we can work with your family to create something very personal. Whatever type of surround chosen, the effect is the same: a beautiful floral tribute for your loved one's service.
Are There Any "Wrong" Flowers?
In short, the answer is no. For both casket sprays and urns, traditional funeral
flowers include lilies (both Oriental and Calla), which symbolize innocence, as well as roses (red for love and grief; yellow for the bonds of friendship), carnations (pink for remembrance, white for pure love), chrysanthemums (for honor), gladioli (for character and integrity), daisies (for peace and hope), or daffodils and tulips (for renewal). Casket sprays and urn surrounds may use one type of flower or a mixed variety. They can be monochromatic or feature a variety of colors — the choice is a personal one. While "traditional" funeral choices create a beautiful tribute, there are no "wrong" flowers. A funeral arrangement can be as unique as your loved one. That said, it is always wise to choose an experienced florist to produce something tasteful. Wildflowers, tropical flowers, sunflowers, and peonies, for example, are not typical "funeral flowers," but are all perfectly acceptable and beautiful in the right hands. Choosing something meaningful is always appropriate.
Sympathy Flowers Show You Haven't Forgotten
When someone you care about has lost a loved one, it's often difficult to know what to say. A gesture like sending flowers can communicate what words cannot. Flowers express sympathy, let others know we're thinking about them, and can even provide a moment of beauty in a time of sorrow. Unlike funeral flowers, sympathy flowers are not sent to the funeral home but to the home of the deceased's spouse/partner, parents, children, or other close family member. Unlike the immediacy of funeral flowers, sympathy flowers can be sent in the week or weeks after the funeral or service. Often, people in mourning appreciate this gesture after the commotion of the funeral and visiting friends and relatives wanes, as this can feel like a lonely time. Sending flowers shows that they and their beloved are not forgotten. The appropriate flowers for funerals are also appropriate for sympathy bouquets and arrangements: Lilies, roses, carnations, and mixed flowers. Plants are also appropriate and can serve as a living reminder longer than flowers. Peace lilies are a popular choice and convey hope, healing and rebirth. Azaleas symbolize care; orchids, faith and beauty; and palm plants, eternal life. Sometimes, people choose to send sympathy arrangements in brighter and more uplifting colors than funeral flowers, which tend to have more peaceful shades. Often, and depending on the recipient, joyous blooms are appreciated at times of sadness. A sympathy bouquet shows you are still thinking of your friend or relative and can even remind them of the happy times they shared with their loved one. And if you're wondering if you've missed your window for sending sympathy flowers, don't worry. It's never too late to tell someone you're thinking about them.
Why Orchard Lane is Different
When you want to send
funeral or sympathy flowers
that are truly unique, personal, and artistic, choose Orchard Lane. As an independent (not affiliated with FTD or Teleflora) florist, Orchard Lane puts an emphasis on flexibility and creativity, creating impeccable, one-of-a-kind designs for each customer. Flower selection, quality, and freshness are important to us, and we have assembled a network of the best importers, farmers, and wholesalers to bring us special blooms from across the world. Whether you know exactly what type of funeral or sympathy flowers you're looking for or you need help finding just the right flowers or plant to send at a difficult time, Orchard Lane's got you covered. Give us a call today and we'll help you select the perfect item to express your love or sympathy.