News
Flower Trends 2023 from Orchard Lane Flower Shop Grandview Ohio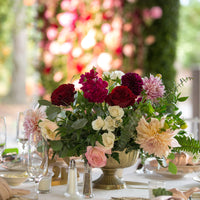 Flowers. You love to get them, and you're great at knowing just when to send them! With their beautiful forms and textures, beguiling scents, and colors ranging from soothing to exhilarating, they're a part of so many important celebrations and passages. And, there's no better way to express care and affection.
Flowers—whether you're giving them to someone else or treating yourself—can also be a unique expression who you are. At Orchard Lane flower shop, the amazingly artistic and creative florists in Grandview Heights, Ohio, this is how we shine. We never do basic, cookie-cutter arrangements. Our florists are artists, constantly pushing the creative envelope to create gorgeous one-of-a-kind floral designs.  
You Need a Local Florist!    
At Orchard Lane florists in Grandview Ohio, we believe in flowers as self-care. You work hard. You care for others. You deserve to be surrounded by beauty, joy, and flowers that speak to your soul and glow up your space! Our florists are artists who happen to work in flowers. We set trends. We get to know you and we design and create arrangements or bouquets expressly for you. 
Orchard Lane Flower Shop believes in the flower power. Whether it's some cheery blooms on your entry table to welcome you home, a bouquet to brighten your workspace, or a chic tablescape for your next dinner party, flowers improve your vibe and set a mood.   
Orchard Lane isn't the only florist in Grandview, Ohio. You lots of choices for flowers. But we think we break the mold. We want to get to know you and design just for you. Stop in our shop next time you're in the neighborhood just to look around. Plus, there's always something fun on our calendar, like our upcomingGalentine's Day floral workshop! Our talented floral designers are always creating something new and setting trends. Speaking of floral trends, here are a few you can expect to see in 2023.   
Power Pinks   
We are so inspired and excited by the Pantone Color Institute's color of the year, "Viva Magenta!" As florists, we love its exuberance. Here is how Pantone describes this bold, beautiful shade: "An energizing and vibrant color rooted in nature descending from the red family and expressive of a new signal of strength." They add, "It is a new animated red that revels in pure joy, encouraging experimentation and self-expression without restraint, an electrifying, and a boundaryless shade that is manifesting as a stand-out statement." Whew. That's a lot. But we're here for it.  We'll be serving up arrangements and bouquets with magenta roses, giant mums, zinnias, dahlias, and more.    
It's Gonna Be All White  
You've no doubt noticed that bouquets and arrangements in a luscious mash-up textures and shades of white and ivory have been everywhere in recent years. Here at Orchard Land florists in Grandview, Ohio, and we are continuing to rework and reinvent these classics, sometimes playing up shade, texture, or both! We white bouquets and arrangements them for the same reason you do—their simplicity and elegance. Once relegated to funerals and weddings, white flowers are so beautiful they really belong anywhere you want them.   
Nostalgia  
While we like to do our own thing at Orchard Lane, we occasionally look afar for inspiration. Every January, the Flower Council of Holland releases spring and fall "Trend Collections:" flowers and plants they plan to promote in the upcoming year. Their spring theme, "Collecting Memories" really resonated with us. Think of your grandmother's garden: roses, carnations, ranunculus, and hydrangeas, as well asficus and eucalyptus. Antique porcelain or stoneware vases will nicely show off these old-fashioned beauties.    
Sculptural Arrangements   
We're currently obsessed with asymmetrical compositions with just a few flower species and generous greenery. Asymmetry evokes the illusion of movement and stillness simultaneously, which we love. These arrangements are a graceful accent in a contemporary or minimalist-designed space.  
A Palette of Purples  
Regal and diverse in shade and species, we are loving purples, whether we're combining several shades of this the hue or doing something more monochromatic. While purple was never out of style, we think you'll see this hue everywhere, from sweet little arrangements to entire wedding themes. We're combining the full range of the palette from pale lilacs to deep, royal purples. Picture bouquets of lily of the valley, hyacinths, lilacs, allium, tulips, and—be still our hearts—purple roses. We have also the growing popularity of wonderfully fragrant lavender and expect to use it more this year.    
Greenery    
Bouquets and arrangements have always featured some greenery, but in 2023, expect to see more of it: more shades, more texture, and more than just a supporting role. Greenery enhances the natural vibes of any arrangement or bouquet.    
Lily of the Valley   
Symbolic of love, motherhood, and purity, this dainty and diminutive flower was the favorite of the late Queen Elizabeth II. At Orchard Lane florist in Grandview, Ohio, we're predicting seeing a lot of these little blooms at King Charles III's coronation events this spring. We're really liking it for wedding concepts, too.   
Orchard Lane Flowers is the Columbus/Clintonville and Grandview Heights florist that believes in flowers as a language—speaking love, kindness, and gratitude. Consider how some fresh blooms can transform your own space, not to mention your energy. Visit our shop or watch for our flower truck, Rosie, in your neighborhood.