News
Attain Stunning Summer Flower Arrangements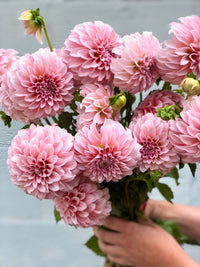 Summer Flower Arrangements
As the days get longer and the weather gets warmer, it's time to start thinking about adding some summertime flair to your home or sending a thoughtful gift to brighten someone's day. Classic summer flowers are the perfect way to do just that, but with so many options available, it can be hard to decide which arrangements will truly make a statement. If you are in the Columbus area, the floral artists at Orchard Lane Flowers in Clintonville can design the perfect summer floral arrangement to send to someone special — or to bring home for you and your family to enjoy. In this blog post, we'll explore some of the most stunning flower arrangements for summer that are sure to impress and evoke the summer season, whether you're sending them as a gift or keeping them for yourself.
Why You Should Send Flowers In The Summer
Summer flower arrangements are the perfect way to brighten up someone's day. They're perfect for anniversaries, birthdays, graduations, births … and just because! Flowers have a unique ability to evoke feelings of joy and happiness, making them an ideal gift for any occasion. However, sending flowers in the summer is particularly special because it allows you to take advantage of all the vibrant and colorful blooms that are in season and sourced daily from Orchard Lane's exceptional suppliers and partners. So why not surprise someone today with a stunning bouquet or arrangement filled with summery sunflowers, daisies or hydrangeas? They'll be sure to appreciate the sweet sentiment!
Flower Arrangements For Summer Hostess Gifts
It's cookout season, and chances are you will be invited to more than one outdoor party this summer. When it comes to summer hostess gifts, flower arrangements are a classic choice that never goes out of style. A beautiful bouquet can brighten up any home, making it the perfect gesture for an outdoor BBQ or pool party. At Orchard Lane, we love unique, bright blooms, incorporating bold colors like oranges, yellows, pinks, and blues into our arrangements and bouquets to reflect the vibrancy of the season. We complement these by adding gorgeous seasonal greenery for added texture and depth. With so many options available, showing up with stunning flower arrangement has never been easier!
Classic Summer Flowers for Stunning Arrangements
Although at Orchard Lane, we pride ourselves with sourcing unique and exotic blooms to make a truly unique floral statement, classic in-season flowers are often the basis for fresh, stunning summer flower arrangements. Some of the most beloved summer flowers include sunflowers, dahlias, roses, lilies, or a mix of wildflowers. Sunflowers are known for their bright yellow petals and large size, making them a great flower in any summer arrangement. Roses are classic and elegant, with shades ranging from soft pastels to bold reds. Daisies and cornflowers are perfect for adding a pop of whimsy, color, and sweetness. Rudbeckias (coneflowers) offer a classic wildflower look and sweet scent. Dahlias are show-stoppers with their intricate, layered petals and bold colors, and classic summer hydrangeas add a touch of nostalgia and elegance to an arrangement. Incorporating these classic summer flowers into your arrangements will create a beautiful display that captures the essence of the season.
Preserving the Beauty of Your Summer Flower Arrangements: Care Tips
Don't let the heat stop you from sending or bringing someone a floral arrangement! You can keep them looking fresh and beautiful with a few simple tips. The first step is to trim the stems at an angle before placing them in a vase with clean water. Change the water every two days, adding flower food to help extend their lifespan. Keep the flowers away from direct sunlight, heat sources, and drafts. If you notice any wilted or dead flowers, remove them immediately to prevent bacteria growth that can harm the rest of the arrangement. If you're displaying your flowers outdoors or in a warm area, keep an eye on the water level and refill as necessary. Also, change the water and remove dead or drying leaves, and recut the stems every two days to keep your arrangement looking fresh longer. Summer flower arrangements are the perfect way to brighten up any space, and they make the perfect gifts. From classic blooms like sunflowers and dahlias to more unique options that will "wow" any recipient, Orchard Lane Flowers will always offer something unique and beautiful. With proper care and maintenance, our arrangements can last for weeks, spreading the love long after they're received or purchased.