News
Stylish, Beautiful, Affordable Wedding Flowers in Columbus, Ohio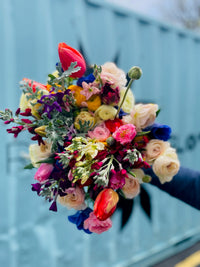 Your wedding day is a celebration — and the beginning of a beautiful and thrilling new journey for you and your partner. Wedding planning can be stressful — but so much fun! Especially when it comes to selecting your flowers. Whether you've been thinking about your wedding blooms since you were a kid or just started considering the perfect flowers, it's time for all those Instagram saves and Pinterest boards to come together into your dream bouquet, centerpieces, and ceremony flowers. If you're tying the knot in C-Bus and seeking stylish, beautiful, and affordable blooms that will take your breath away, Orchard Lane Flowers is here to help. Our floral designers are next-level artists who love to make your big day not only beautiful, but also uniquely you. Plus, we offer transparent pricing and can work within your budget so anyone can have fabulous, affordable wedding flowers in Columbus, Ohio!
Stunning, Affordable Wedding Flowers in Columbus Ohio
Weddings are expensive! We understand that you are looking for stunning
wedding flowers that are within your budget. Can you really get both? Yes! At Orchard Lane, our floral creations for weddings aren't just an elegant reflection of your personal style, but we take your budget into consideration, too. Whether you have a limitless flower fund or need to watch those dimes, we take pride in offering an extensive selection of gorgeous blooms at a wide range of price points. Our accomplished artists can bring out the beauty in even the humblest blooms. So whether it's rare roses or simple wildflowers, we have the flowers and skills to give you something beautiful on your wedding day, no matter your budget. Your wedding is a huge deal. We think every bride and groom deserves gorgeous yet affordable wedding flowers in Columbus, Ohio!
Tricks to Stretch Your Budget
As wedding flower veterans, we know the hacks for working within any budget. There are tips and tricks to help keep the cost down and still have the wedding flowers of your dreams. For instance:
Embrace the season. There are gorgeous blooms and greens native to every time of year. Opting for flowers that are in season not only ensures their freshness but also helps keep costs down because they are more readily available.
Work with an experienced local florist. Local florists have the best networks and access to a wide variety of affordable options. Orchard Lane has spent years cultivating relationships with the best growers for the freshest, most beautiful flowers at fair prices.
Mix and match your centerpieces. It's not uncommon to alternate two or three different centerpieces throughout a reception space. Not every table needs a large floral arrangement. Some tables may have small floral touches, while others may have a candle-focused centerpiece.
Use what you can from your venue's complimentary offerings, such as votive candles. And check out your local social media lending pages for decor items you can borrow such as lanterns or hurricane lamps. Your florist can incorporate these into a tablescape.
Remember, it's all about finding the right balance between style and affordability. With the right partner and some creativity, you can get affordable wedding flowers in Columbus, Ohio — and still make a beautiful statement!
Flowers for a Traditional Wedding
Whatever your wedding theme, our creative and talented floral designers at Orchard Lane have you covered. Having a traditional wedding? How about roses, the ultimate floral symbol of love? Other traditional go-to blooms include tulips, calla lilies, orchids, and peonies. While these fall on the expensive side, beautiful, budget-conscious bouquets can be made from a mix of hydrangea, carnations, mums, and a touch of greenery. For a traditional bridal bouquet, you might choose a vertical bouquet of mixed flowers, a nosegay (those small, sweet, rounded clusters with one dominant flower color and minimal greenery), a cascading bouquet (a romantic waterfall of flowers and greenery), round bouquets (flowers of even heights are tied with a ribbon and create symmetrical, globe-like effect), or a presentation bouquet, which is cradled in one arm (think pageant queen).
Flowers for a Romantic Wedding
If your theme is romance, think dreamy, loose, arrangements—organically shapes featuring natural, soft flowers in shades of white and ivory, blush, light pinks and peaches, and the softest purples and blues. Mixed bouquets and arrangements exude romance: Roses, peonies, hydrangeas, freesia, lisianthus, ranunculus, and daisies fit the bill. Romantic wedding flowers are sweet, relaxed, and often finished with flowing ribbon details. If budget is a concern, a theme of romance can help you save money because there's an emphasis on greenery as well. You can also bring romance to your big day with a delicate floral arch filled with cascading blooms such as hydrangeas complemented by dripping greens. For tabletops, incorporate candles into your floral centerpiece. This classic combination exudes warmth and intimacy — how romantic!
Stylish and Modern Wedding Flowers
Sometimes "modern" and "contemporary" are used interchangeably. While "contemporary" can refer to modern design, strictly speaking, "modern" floral design refers to the minimalistic elegance and visual excitement created through fascinating flower choices and the clever placement of blooms and greens. At the moment, modern is very contemporary! Modern floral design is characterized by unconventional blooms and plants, such as dramatic protea, anthurium, and succulents arranged in sleek, simple lines. A modern color scheme is often monochromatic (think dramatic purple orchids) or a striking blend of bold colors. A slender bouquet of calla lilies, a sleek, structural waterfall bouquet, or even a minimalist bouquet of a traditional flower like lily of the valley makes a beautiful modern statement. Like bouquets, structural flowers, such as foxgloves and orchids make a statement when used in a centerpiece. A modern floral theme is a budget-friendly option because of its minimalistic aesthetic. At Orchard Lane, we can find the exact flower and greenery mix and help you choose unique or abstract vessels to make the perfect modern arrangements and centerpieces.
Why Trust Orchard Lane for Your Big Day
At Orchard Lane, we love weddings! We think our job is to make the flower selection and design process as stress-free as possible and give you the wedding flowers of your dreams! Not sure where to start in your search for a wedding florist? We think you should talk with several before making a decision Here are some things to look for:
Do you like their style?
While a true pro can take any wedding theme or concept and design flowers to complement it, it is helpful if your and your designer's styles vibe. Does a look through a florist's portfolio "spark joy," as the saying goes? If so, they're probably a good fit for your wedding! At Orchard Lane, we value artistry and originality — that is, making your wedding flowers uniquely "you." If these are qualities you value, too, we might be a good fit!
Do they communicate openly about the prices?
We know budgeting for a wedding is hard, so we strive to be transparent when it comes to pricing.
Our wedding floral designs
gives you a range of what each element for your wedding will cost, from boutonnieres to bridal bouquets to spectacular floral arches, should you choose Orchard Lane Flowers for your big day.
Do they have a good reputation?
Always ask for customer references and check the Better Business Bureau for past complaints. A customer complaint isn't necessarily a non-starter. What matters is whether the business resolved the issue in a way that satisfied the customer. Orchard Lane is proud to have an A+ BBB rating.
Do they have a good reputation?
Always ask for customer references and check the Better Business Bureau for past complaints. A customer complaint isn't necessarily a non-starter. What matters is whether the business resolved the issue in a way that satisfied the customer. Orchard Lane is proud to have an A+ BBB rating.
Do you trust them?
After a florist passes the reputation test, schedule a meeting with them. Do they listen? Do they make you feel like your wedding matters? Do they "get" your vision? Do they have ideas? Do they respect you? Do they seem organized and professional? Trust your gut when it comes to this brief, but important, relationship.
Are they excited to create for you?
A florist might have a thousand weddings under their belt, but they should make you feel like your special day is special to them, too! At Orchard Lane, we get inspired by every bride or groom we meet. We think you will see your own joy and excitement reflected in everything we do. We truly believe it as an HONOR to be included in your big day! If you are planning a wedding in Columbus, please
reach out
or call us at
614.262.0880
. We are excited to get to know you and talk about how Orchard Lane Flowers can help make your wedding dreams come true.