News
Gorgeous Gifts: Hydrangea Tea Towels, Save the Bees Tees & More Merch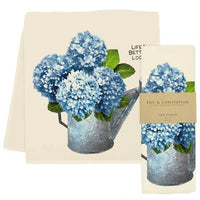 When sending flowers, it's always nice to include a little something extra to make your gift even more special. There are so many thoughtful little keepsakes your flower recipient will enjoy long after their birthday, anniversary, or "just because" flowers have faded. At Orchard Lane Flowers, we love discovering these little treasures and offering them to our customers. This season, we're all about one of summer's favorite blooms — hydrangeas. Unlike the leafy shrubs bursting this month with blooms outside your window, hydrangea decor and gift items spark joy all year long. 
Whether white, pink, blue, or purple (did you know soil acidity determines their color?), the vibrant colors and delicate petals of hydrangeas make them a beloved flower. They symbolize grace, beauty, and abundance, making them oh-so-popular among our customers. This summer, we are suggesting add-on items like our popular hydrangea tea towels. Practical, yet sweet, these decor accessories not only add a touch of joy to any kitchen, but they're functional as well and wash up beautifully. Whether your recipient uses them to dry dishes or simply to glow up their kitchen, hydrangea tea towels are the perfect accompaniment to a floral gift — and will remind your loved one of you every time they use it. 
Hydrangea Tea Towels and Other Beautiful Blue Gifts
From their June buds to gorgeous mid-summer explosions of pastel or vibrant petals, hydrangeas are both nostalgic and exuberant. No wonder we're seeing hydrangea decor everywhere. Here at Orchard Lane, we are carrying beautiful merchandise from Eric & Christopher, includingHydrangea Tea Towels. These rustic, flour sack towels are screen printed and sewn in Bucks County, Pennsylvania and measure a generous 28'' x 28''. We also have a crisp, white WH Hostess brandHydrangeas Urn Tea Towel, trimmed in fresh navy blue stripes. This darling towel is crafted in Ireland and measures19" x 29". A tea towel or another one of our hydrangea-themed gifts, like our adorable striped bowSticky Note Pads orHydrangeas Pattern Notepad make a perfect accompaniment when you're sending a hydrangea or any other floral arrangement. 
Gifts That are the Bee's Knees
By now, you have heard of the bee crisis our planet is facing as honeybee
populations shrink. Bees play a crucial role in our ecosystem. They are responsible for the growth of fruits, vegetables, and flowers. However, bees face numerous threats today that have caused their populations to decline significantly, including loss of habitats, pesticides, climate change, and diseases. 
We need and love bees! Show your support for these prolific pollinators by sending bee merch along with your gift of flowers from Orchard Lane. We have such cute bee-themed add-on gifts, you'll probably want to snag some for yourself, too. 
A sweet bee-friendly addition to your gift of flowers is bee food … a.k.a wildflowers! For just $3, you can add an adorable, decorative packet of"Bee Food"wildflower seeds to your floral delivery. Your recipient can plant them and think of you whenever they see these bold, colorful beauties blooming in their garden or containers, year after year.
OurSave the Bees Tee has been a huge seller this season. There are only a few of these graphic tees left, so order one for yourself or someone else today. Our sunnyFlowers & Bee stickers are another cute $3 addition. 
Other Unique Gifts from Orchard Lane Flowers
Available for delivery with flowers, in-store, and online, Orchard Lane Flowers offers hand-selected gift items to make your friend or family member smile. 
We work with unique and artisanal creators to offer you: 
Stationery

Candles

Aromatherapy

Linens 

Beauty products

Pillows and throws

Artistic sweets

Stickers

… and more unexpected treasures
Check out ourcomplete gift selection and send something unexpected to someone special today.
Learning 4 Life 
At Orchard Lane Flowers, we are always looking for ways to forge deeper connections with our community and the great organizations in the floral industry.  A partner we're really excited to have found isLearning 4 Life Farm. Learning 4 Life is a nonprofit transition job training program for central Ohio students on the autism spectrum and with related disabilities. The program teaches valuable skills to students as they prepare to graduate high school and venture into the next phase of their lives. 
At this seven-acre job training farm in Johnstown, Ohio, teens and young adults learn a wide variety of agriculture and horticulture skills, including flower growing. Orchard Lane purchases flowers from Learning 4 Life Farm, and when you buy one of our special Learning 4 Life arrangements throughout the spring, summer, and fall growing seasons, we donate part of the proceeds back to this amazing organization. We sell Learning 4 Life bouquets online, in shop, and from Rosie the Flower Truck. Join us in supporting this great nonprofit.