News
Create a Delightful Dahlia Arrangement In Our August Workshop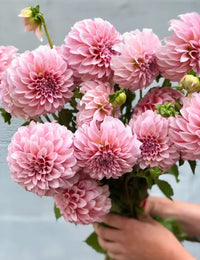 Dahlia Arrangements Workshop
As summer transitions into its final act, vibrant, showy dahlias begin to burst, captivating us with their pompoms of perfect petals. Whether you have a garden full of dahlias you'd love to know how to arrange, or if you just think this iconic flower is the bomb, don't miss Orchard Lane Flowers'August 12 Dahlia Bloom Workshop, where our supremely talented floral designer Melonie will help you create a joyful arrangement of these classic flowers. 
Whether you're a beginner or an experienced flower enthusiast, our monthly workshops, where we supply all the flowers, tools, and the container to hold your masterpiece, are designed to inspire and ignite your passion for floral design and teach you some technical tips as well. Whether you keep your gorgeous creations for yourself or give them to someone special, our workshop attendees find these evenings fun and creatively satisfying. Creating beauty is kind of our thing around here, and we love to share the bliss. 
At our August workshop, you'll not only make your own darling dahlia arrangement, you'll learn skills to make all of your home arrangements more stunning — the intricacies of mixing colors and textures, selecting complementary flowers and foliage, and arranging dahlias and other blooms in a way that brings joy to both you and anyone lucky enough to receive your amazing arrangement. Get ready to immerse yourself in a world where the dahlia's precise petals intertwine with creativity, and blooms become art! 
At Orchard Lane, we believe that flowers have the power to bring joy and beauty into our lives, so we hope you'll join us to celebrate a late-summer stunner, the dahlia.
Why Dahlias are so Distinctive
Dahlias have a rich, cross-continental history. Spanish explorers in the 16th century came across these amazing flowers in the mountains of Mexico, and soon they became highly prized among the horticulturalists and botanists of the 17th and 18th centuries. Dahlia seeds made their way to Europe in the 1700s, where they gained popularity as ornamental plants. Their mesmerizing petal patterns and beautiful colors captured the imaginations of garden enthusiasts across the continent. In fact, dahlias became so valued during this time that they were often used as symbols of luxury, elegance, and dignity.
Over the decades, breeders developed new dahlia varieties with different sizes, shapes, and colors. Today, there are thousands of dahlia cultivars available in various shades ranging from delicate pastels to rich reds.
Dahlias remain a timeless choice for floral arrangements. Their enduring appeal is a testament to their versatility, to stay fresh for long periods after cutting, and their ability to effortlessly add beauty to any space or occasion.
Dahlias' Beauty and Versatility 
When it comes to floral arrangements, dahlias are truly a standout. Their intricate layers of petals and a variety of hues and sizes make them perfect for bouquets or centerpieces. 
Dahlias are also great because they are so versatile. This bloom is equally at home in a romantic pastel bouquet, or a bold arrangement bursting with vibrant reds and oranges. Their variety allows you to create different styles of arrangements, from classic to contemporary. They also pair well with a variety of other flowers and greens in bouquets and arrangements. 
For Orchard Lane's Saturday, August 12 Dahlia Blooms Workshop, we will pair dahlias with fall-inspired blooms to create a rustic, romantic arrangement. In addition to your take-home arrangements, Melonie will teach you all about dahlias, ways to use this "showstopper" bloom, tips and tricks for arranging flowers at home, and how to extend the life of your floral arrangements.  
Unleash your creativity and join us for our August Dahlia Bloom workshop at Orchard Lane Flowers in Clintonville! 
This workshop is filling up, so sign up today.
Why Make Bouquets and Arrangements with Dahlias
If you're looking to create stunning bouquets and arrangements, dahlias are the perfect bloom to work with. Here's why:
Diverse shapes and sizes: Dahlias come in a wide range of shapes, sizes, and petal formations, making them incredibly versatile for floral design. From large dinner plate dahlias to petite pompon varieties, there is a dahlia for every type of arrangement.
Vibrant colors: Dahlia blooms display an array of vibrant colors, from ivory and pastel pinks to bold oranges, reds, and purples. This color diversity allows you to play with different combinations that reflect your own personal style or match the theme of any occasion.
Long vase life: Unlike some other flowers that wilt quickly, dahlias have impressive longevity as cut flowers. With proper care, they can stay fresh in a vase for up to a week or even longer.
Texture and dimension: The unique texture of dahlia petals adds depth and dimension to any bouquet or arrangement. Whether you prefer ruffled edges or smooth symmetrical blooms, dahlias bring an interesting visual element that enhances floral designs.
Impressive focal points: With their show-stopping size and exquisite beauty, dahlias make excellent focal points in bouquets or centerpieces. Placing one or two large dahlia blooms amidst smaller flowers creates an eye-catching contrast that immediately draws attention.
Including dahlias in your floral arrangements allows you to create stunning compositions while showcasing nature's creativity at its best!