News
Our September Workshop: Create Elegant Sunflower Arrangements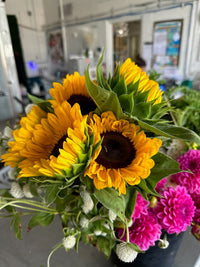 Elegant Sunflower Arrangements
It's nearly impossible to think of late summer without thinking of sunflowers! They are one of the season's most dramatic blooms. These towering beauties stand out in the field with their stunning yellow petals and large, happy heads.
At Orchard Lane, we think it would be a shame to let the season end without creating a joyous, elegant sunflower arrangement.
That's why we've chosen this seasonal stunner for our upcoming flower arranging event: First Glimpse of Fall Sunflower Workshop.
The class will be held on Saturday, September 30 at 11:00 a.m. at the Orchard Lane Flower Shop in Clintonville, Columbus. Melonie, one of our incredibly talented floral designers, will lead the event in which you will learn, step-by-step, how to build your sunflower floral arrangement. As you create your centerpiece, you'll also learn all about sunflowers (For instance, did you know that sunflowers were grown and studied on the International Space Station? Or that every sunflower is actually composed of thousands of other, smaller flowers?) and the other early fall blooms that will complement this glorious arrangement.
A unique element to this workshop will be monogramming your rustic, wooden planter box that will contain your arrangement! This adds a fun, personalized element to your centerpiece that you can use over and over again.
We hope you'll join us for what is always a fun event. Last month, Melonie led a group of flower enthusiasts for our Dahlia Bloom Workshop. Participants made joyful arrangements of these classic summer flowers and had a lot of creative fun along the way. Our workshops are always a great way to meet people who share a passion for flowers, design, and infusing their worlds with beauty.
Fall and Holiday Floral Workshops
As the weather cools, we look forward to the beauty of the fall and holiday seasons. We're hosting events in which you'll create arrangements to adorn your home and welcome guests.
Our upcoming workshops will include:
October 14 - White Pumpkin Fall Floral Centerpiece
October 28 - Majestic Magnolia Autumn Wreath
November 16 - Fall Bounty Cornucopia Centerpiece
November 28 - Comfort and Joy Evergreen Holiday Wreath
December 16 - Woodland Evergreen Candle Centerpiece
December 21 - Elegant Holiday Centerpiece Workshop
We hope to see you for our First Glimpse of Fall Sunflower Workshop and all of our upcoming events.
First Glimpse of Fall Sunflower Workshop: The Details
When: Saturday, September 30th, 11 a.m.
Where:
Orchard Lane Flowers/Rosie the Flower Truck's Garage
378 Indianola Ave.
Columbus, OH 43214
Registration: Sign up here!
What to bring: Nothing! We provide the blooms and tools to borrow for the afternoon.
Special discounts: The retail shop will be open for shopping until 1 p.m. All workshop attendees receive an extra 10% off their purchases that day!
Remember, Orchard Lane can host a private workshop event with us! These are perfect for a Girls' Night, Team Building, or Bridal Shower! Orchard Lane Flowers offers private workshop events for groups from 10 to 50 guests. Just drop us an email to learn more.