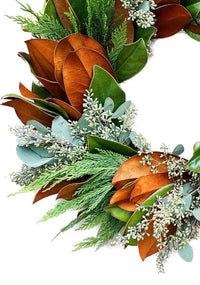 White Pumpkin and Magnolia Autumn Wreath Workshops Blog
Columbusites love their autumns! And what's not to love? OSU football, apple cider, day trips to the Metroparks or Hocking Hills to see the colors, and pumpkin spice everything!
We also love to glow up our houses with beautiful fall decor. To that end, we are hosting not just one but TWO floral workshops in October where you can make a stunning centerpiece and a welcoming and elegant fall wreath for your front door.
Held here at our Clintonville Orchard Lane Flower Shop and Rosie's Garage, the workshops will be held on Saturday, October 14 (White Pumpkin Fall Floral Centerpiece), and Saturday, October 28 (Autumn Magnolia Wreath). Each starts at 11:00 a.m.
Here are the details for these fabulous fall fêtes, courtesy of Orchard Lane Flowers' designer and workshop leader, the amazingly talented and creative Melonie:
Q: How did you come up with the idea for the White Pumpkin Fall Floral Centerpiece workshop, Melonie?
M: We are always trying to come up with new and exciting ideas to offer in our workshops. Sometimes, that means a new tool or technique, and other times it may be a really unique vessel. Because it's fall, we sourced a stunning white pumpkin vase for this workshop. We wanted to give a nod to the season, but by using a white pumpkin instead of a traditional orange one, it gives the arrangement an elegant feel.
Q: What are the blooms and greenery students will be using for this centerpiece?
M: The elements may include blue thistle, mums, artichokes, scabiosa, globe amaranth, orange spray roses, and carnations.
Q: Do you have a name for this dramatic and moody color scheme?
M: Fall jewel tones.
Q: What skills will students learn in this workshop?
M: They will learn information related to each of the flower types we are using. Additionally, they will learn how to create a low, water based arrangement, which they can use to make their own centerpieces and arrangements at home.
Q: Tell us about the Majestic Magnolia Autumn Wreath.
M: This is a beautiful door-sized wreath built on a grapevine base. We like to use grapevine wreaths because they are not only beautiful but they can be reused season after season.
Q: How did you come up with the idea and the elements?
M: Magnolia is such an elegant foliage. Its contrast in color from green to brown makes it the perfect base for an autumn wreath.
Q: Other than the magnolia leaves, what's in the wreath?
M: There will be other greenery like eucalyptus and some fun dried elements.
Q: How long will it stay fresh looking?
M: This depends on where it is placed. It will last longest inside away from direct sunlight and away from any heat source. However, all the elements will dry beautifully and it will still look good.
Q: Can it be hung both inside and outside?
M: It can be hung inside or outside if it's in a covered area. It will last longer inside but it will dry beautifully either way.
The Details
What: White Pumpkin Fall Floral Centerpiece Workshop
When: Saturday, October 14, 11:00 a.m.
Where: Orchard Lane Flowers/Rosie the Flower Truck's Garage
378 Indianola Ave.
Columbus, OH 43214
Cost: $105; includes all materials, including pumpkin vase, PLUS a 10% discount on anything you buy in our flower or gift shops that day.
What: Autumn Magnolia Wreath Workshop
When: Saturday, October 28, 11:00 a.m.
Where: Orchard Lane Flowers/Rosie the Flower Truck's Garage
378 Indianola Ave.
Columbus, OH 43214
Cost: $115; includes all materials PLUS a 10% discount on anything you buy in our flower or gift shops that day.
WORKSHOP FAQs:
How do I sign up? It's easy. Just register here.
What should I bring? Just yourself and your creativity. We have all the flowers, hardware, and tools you'll need to create your arrangement. If you want to flex your flower arranging skills at home after the workshop, however, add the Orchard Lane Flowers Floral Design Tool Kit to your cart when you register for the Real Pineapple Workshop. Just $35, your tool kit will include a pair of floral snips, 1/4" clear tape, a spool of green floral tape, and a spool of paddle wire. All the supplies come in a cute little Orchard Lane Flowers branded pouch. We'll have your kit waiting for you at the workshop!
Do I need any special skills? Absolutely not. Our floral artists are the best in Columbus and they love to share their craft. We'll teach you all the techniques you need to know for this arrangement.
Can I bring a friend? Of course! Just remember that space is limited, so sign up soon. But feel free to fly solo. You'll meet great new people.
Do you do private parties? Absolutely! A private workshop event is a fun way to celebrate a birthday, host a team building workshop, or throw a bachelorette party or bridal shower. We can host groups from 10 to 50. Just reach out and we'll get your private workshop started.
We're looking forward to getting creative with you at Orchard Lane!